GainingTactics is reader-supported. When you make a purchase using the links below, I may earn a small commission at no extra cost to you. Learn More.
You might have come across the name 'Testosterone Boosters' while browsing through the supplement section. Now, all of us have a basic idea of what testosterone really is; it's the male sex hormone. But why would you need to boost it? Doesn't your body already produce enough of it?
In a Hurry? In a comparison between TestoGen and TestoFuel, I recommend TestoFuel because of better ingredients and better effectiveness.
Testosterone is an extremely vital hormone, dealing with bone mass, sperm production, and even the hair on your body. That's why a drop in your testosterone levels can result in you being unable to build muscles rapidly, a lower sex-drive, and even a reduction in the amount of body and facial hair.
Testosterone level gradually decreases as you age, but it's not uncommon for people to face medical issues, which could also decrease their testosterone levels. In this article, we review the two top testosterone boosters: TestoGen vs TestoFuel.
How Testosterone Boosters Come into Play
Testosterone boosters are basically supplements (a huge shocker, I know) and help increase testosterone levels in your blood. Now that I have covered all the basics, here comes the tough part. Which one is the best out there?
Comparing them can seem really tough because they all seem to claim the same benefits. But it's vital for you to choose the right one because there are plenty of fake testosterone boosters out there that have harmful side-effects.
Lucky for you, I have scoured the market and compared all the testosterone boosters out there, looking at their benefits, target audience, side effects, and even cost to help you make a more informed purchase.
Below, I have discussed two of the current giants in the market, TestoGen and Testofuel. It's time to up close and get personal with them.
Cyprus-based TestoGen is one of the most popular supplements made available by Wolfson Berg Ltd. Although lacking off necessary testimonials, TestoGen still stands at a respectable position among bodybuilding supplements.
TestoGen claims to probe in 30 years of experience and FDA facilities to craft the perfect blend for the bodybuilders to kick up those dropping testosterone levels and pack in those muscle fibers. TestoGen has been in the market since 2009, making it a really popular booster.
Now, it's time for me to take a deep dive and find out whether these claims actually hold up in reality.
Benefits of TestoGen:
The very first benefit that TestoGen claims to provide is an increase in your strength and stamina which you're gonna need if you want to get that 1 rep max.
Bodybuilding doesn't just require your body to be in top shape. You need laser-sharp focus to build that much-needed mind-muscle connection. TestoGen improves your focus considerably.
What's the use of bodybuilding when you cannot pump in that heavy iron and feel that scouring pump in your muscles, and for that, the much-needed energy is given to you by this TestoGen.
Libido is not something that you will need to pump those weights around but it's definitely something that you don't want to overlook so TestoGen got you covered here by increasing your libido.
Recommended: Before you purchase TestoGen, make sure you checkout my complete TestoGen Review.
TestoGen Ingredients:
Now let's take a look at the ingredients present in TestoGen and check if there's anything note-worthy. So, TestoGen contains the following ingredients:
Bioperine
Zinc
Vitamin B6
Red Ginseng Extract
Fenugreek Extract
D-aspartic acid
Vitamin K1
Vitamin D
Nettle leaf Extract
Boron
Magnesium
Pros:
After using it personally and going through countless reviews and speaking to various customers, here are a few changes that everyone including me noticed.
1. It actually helped their muscle mass
A majority of users found out that their muscle recovery had improved immensely after only using it for a month. They also found it much easier to tap into the muscle-mind connection that helped them do complete even their heaviest sets.
2. Had additional benefits apart from testosterone
Merely going by the name, it's easy to think that testosterone boosters only help with testosterone levels. But not when it comes to TestoGen. It contains unique ingredients like red ginseng and nettle-leaf extract that are known to increase cardiovascular capacity as well as help in fat-loss.
Cons:
No product is perfect but they can always strive to achieve it. Here are a few cons that TestoGen can work upon.
1. Amount of Boron
The amount of boron that TestoGen contains is extremely low, so low that it has basically no effect. When you see an ingredient in a list, you expect it to play some role, but this does not appear to be the case with boron in TestoGen.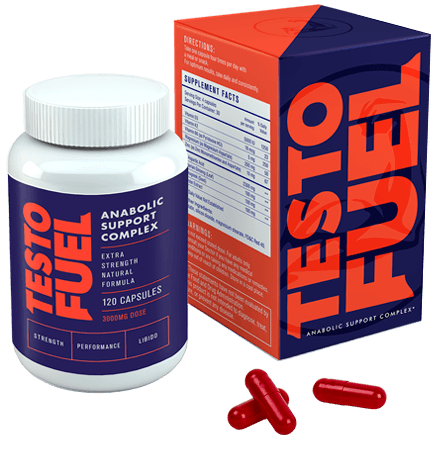 Comparatively new when compared to its counterpart, TestoFuel has still managed to rank among the top 3 testosterone boosters in the bodybuilding industry which is an amazing feat.
The first supplement from Roar Ambition, TestoFuel, was introduced in the year 2012 and has since, taken over the world by storm. This product is top-rated among bodybuilders, no matter their age or body type. Even Robby Robinson – a former Mr. Olympia and Mr.Universe is a customer who says that TestoFuel has helped him build and maintain his muscle mass as he grows older.
Focusing on quality rather than quantity, this supplement claims to help you achieve the body of your dreams. Let's now have a look at the benefits.
Benefits of TestoFuel:
TestoFuel claims to help you increase your muscle growth naturally by working on increasing your testosterone levels.
You will experience an increase in your strength and muscle size without having to resort to the use of other supplements.
A reduction in the amount of body fat.
An improvement in your mood and an increase in your confidence levels.
Recommended: If you are looking for an alternative, here's my review of another great Testosterone Booster: Testo Lab Pro.
TestoFuel Ingredients:
Red Ginseng Extract
Fenugreek
Magnesium Citrate
Oyster Extract
Vitamin B6
Zinc
Vitamin D3
Vitamin K2
D-Aspartic Acid
Pros:
I've discussed some of the pros that I've found out after having gone through trying out the product myself with several reviews and talking to this supplement's users.
1. An increase in confidence levels
Although we can't say for sure that this increase in confidence was due to TestoFuel, users did report that they felt much more confident after they started using it. In addition, TestoFuel's 90-day money-back guarantee boosted their confidence in the product even more.
2. An increase in the rate of muscle recovery.
Many users noted that using this supplement also reduced the amount of time that they would rest during their working sets. This helped them to get their workout done faster and leave more time for other activities like cardio.
3. Better gains
Apart from the increase in muscle recovery, even their gains were getting better by the day. This motivated them to continue hitting the gym without missing a single day.
Cons:
1. Non-vegetarian
TestoGen contains gelatin and oyster powder which prevents those who are vegan or vegetarian from using it. With many people slowly converting to the two, perhaps it's time that TestoGen releases a vegan variant of itself.
The Final Verdict: TestoFuel vs TestoGen
Now that you are familiar with both the products, I'm sure that you've noticed that both of them share a very similar ingredient list and benefits. So it all comes down to the amount of these ingredients and those extra ingredients.
Similar Ingredients:
1. D-Aspartic Acid
D-aspartic acid is an amino acid that is found in both pituitary glands and testicles and is responsible for the production of both testosterone and luteinizing hormone. Both of these hormones also show an anabolic mechanism makes them extremely important for bodybuilding.
The presence of extra D-Aspartic acid in these supplements is no surprise as plenty of researches have shown that they do cause a significant increase in testosterone production.
According to fitness nutritionists, the optimum dosage should range from 2,000-3,000 mg daily, so both the supplements do make the cut. TestoFuel contains 2,300 mg while TestoGen contains 2,352 mg.
So, TestoGen wins this round by a mere 52 mg, which is not a huge difference but since these supplements are so similar, these minute details should be taken into consideration.
2. Vitamin D3
You might also call this the 'sunshine vitamin', but that's not all that it does. It's required by the body to carry out various important functions of the body. One of the most active forms of this vitamin is Vitamin D3.
D3 increases not only the increases not only the total testosterone levels but also the level of its bio-active form. In addition to this, it also improves sexual performance, so it's killing two birds with one stone.
If you think that's all, it also elevates moods and strengthens your bones. TestoFuel contains 5,000 IUs of vitamin D3, while TestoGen contains 2000 IUs (50 mcg). This certainly gives TestoFuel an upper hand.
3. Red Ginseng 
Red Ginseng has gained fame as a natural testosterone and libido booster since ancient times, and that's why you can find ginseng among the top ingredients in a testosterone booster.
Testosterone is one of our primary androgens thus the work of ginseng is highly important here. It is responsible for managing the function of androgen receptors and also acts on the Luteinizing hormone – a major forerunner of testosterone.
Besides all this, ginseng improves sleep quality, improves cognition, and reduces fatigue which is the known toxic friend to your gains. The amount of ginseng is very important for it to be effective though.
TestoFuel offers 100 mg of ginseng vs TestoGen has 40 mg. So the winner is obviously TestoFuel.
Unique Ingredients:
1. Testogen's Nettle Leaf Extract
The major reason why nettle leaf extract is added to the formula is that there is scientific validation that it binds to the sex hormone-binding globulin enzyme. Now, putting it simply you will have more testosterone in the unbound state.
This means that the amount of testosterone present in the free state in your body increases. But it is better to take this with a pinch of salt because the bodybuilders used in this research were rats.
2. Boron
The boron in TestoGen is their show-stopper ingredient because this excellent trace supplement is known to increase the testosterone levels in 7 days.
You can get a potent enough amount from your food if you regularly eat foods that are rich sources of boron. But the sad truth is that very few have enough time to monitor their diet in this way.
According to one study, 10mg of boron could reduce estrogen (the female hormone) by 39% and boost testosterone by 28%. With all this, it's not clear enough if the 8mg in TestoGen will be sufficient enough or not.
3. TestoFuel's Oyster Powder
This exotic ingredient contains the goodness of protein, Omega 3 and 6 fatty acids, and even magnesium. However, the most important ingredient is zinc, and if you didn't know, zinc and testosterone go hand-in-hand.
An increase in your zinc levels will increase your testosterone levels immensely so the addition of Oyster Powder puts TestoFuel in a totally different league from others.
Final Scores for TestoGen and TestoFuel:
TestoFuel ranks higher than TestoGen when it comes to their brand authority and ingredient list. They've used some really great ingredients that are actually backed up by science.
Although both are highly effective, TestoFuel shows results faster than TestoGen, so if you're looking for something that shows visible effects quickly, you should go ahead with TestoFuel.
However, when you compare miscellaneous things like serving sizes, the safety of the supplements, and the value of money, both of these giants are par with each other.
My Recommendation
After researching a lot and comparing these products for quite some time, I can say that I'm satisfied with the fact that both TestoGen vs TestoFuel boost testosterone levels naturally by using a blend of natural elements. Using artificial testosterone doesn't sit well with me so this was very relieving.
If you're non-vegetarian and don't show adverse effects to ingredients like oyster powder and gelatin, then TestoFuel should be your go-to supplement, but if you don't fall in these two categories, TestoFuel isn't a bad choice either.
Both have a monthly dosage of 4 tablets each day, but when it comes to marketing, TestoFuel does give you more confidence. The backing up of a former Mr. Olympia, who's in his 70s, does give the feeling that it's better since he's sure to know his stuff.
That's not all. TestoGen's signature ingredient, the nettle-leaf extract, is not backed by any solid scientific proof or claim. As a person who wants to know everything that I put in my body, this ingredient only made me much more skeptical.
It would be better to either conduct further research or replace it with other ingredients with an actual scientifically backed claim.
Also, the unique ingredient that is the nettle leaf extract popularized by TestoGen is not backed up by any scientific claim or from any trusted source. Hence, it failed to impress me as a person who wants to ensure that everything that goes up in my system should perform the way it's being claimed or at least known to do so, but sadly nettle leaf extract is not one of those for now.
My suggestion as an alternate to nettle leaf extract would be using other supplements backed by scientific claims. Ultimately, TestoFuel is the clear winner for me, but TestoGen is a good enough substitute if you are vegetarian, vegan, or allergic to the oyster powder.
Click to get discounted price for both TestoGen and Testofuel.
You Might Like:
Rohan Arora is a Certified Personal Trainer and Sports Nutritionist and has been actively involved in sports and fitness for over 8 years. He now leads the team of fitness specialists and personal trainers who help people around the world with personalized workout and nutrition plans, along with providing the right information on sports supplements.